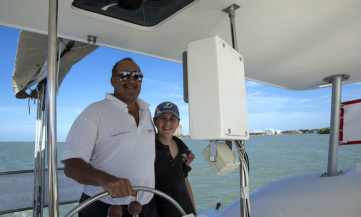 Captain Hugh Cross has been a USCG licensed Captain for almost 30 years and has sailed in many parts of the world including Australia and the Virgin Islands.
Captain Hugh is a licensed FAA private pilot and a certified PADI divemaster. He owned a beach rental concession in Costa Rica and participated in the Amerca's Cup in 1995.
He and his wife, Julie, have been married for 17 years and have six children ranging in age from 8 to 18.
Julie, a physician by profession, is now a stay at home mom homeschooling their children while keeping a watchful eye on the weather and occasionally answering the phone for reservations.
While Captain Hugh is passionate about sailing, he finds that the best part of his job is enjoying the company of his guests. He also enjoys sharing his local knowledge of the area with people from all over the world.
You can read more about Captain Hugh in Gulf Shore Life magazine by following this link: http://www.gulfshorelife.com/April-2015/Feeling-It-A-Day-in-the-Life-of-the-Gulf/ .
---